SO TELL ME, are you tired of…
struggling to stay top-of-mind during the long outdoor living buying process?
losing leads due to how difficult it is to view your photo gallery?
your competition looking better due to your outdated web presence?
your prospects spending elsewhere like a new car or fancy vacation?
Are you tired of losing potential customers due to your outdated website?
You may be a…
Growth-Minded Contractor
and you've probably asked yourself this question at least a thousand times…
HOW CAN I ACQUIRE MORE LEADS
without spending more money on ads?
We Got This.
My business doesn't need a new website, we get all of our work from referrals.
Too Expensive.
Websites don't work unless you have a very large marketing budget.
Too Busy.
I'm too busy keeping current projects on track to worry about promoting my business online.
Never Again.
We've been burned in the past. Besides, we can do it all ourselves.
Pool & Patio Marketing offers
a process for finding, attracting, and nurturing leads that ultimately become customers.
We do not have a one-size-fits-all solution. Rather a process to discover, find and nurture your ideal customers.
This is not a magic wand, but rather a process built to provide a return on your investment over time.
This is not about set it and forget it. The key is to keep improving upon what works, and toss what doesn't.
Ready to learn more?
Bring in new leads with a website that works for you.
Schedule your free, 15 minute strategy consultation now!
We will uncover ways to make your business run smoother while improving your bottom line.
WEBSITE DESIGN/ DEVELOPMENT
Our websites are designed and built to capture leads.
CONTENT MARKETING SOLUTION
Providing regular content with a blog works wonders for years to come.
EMAIL MARKETING STRATEGY
Stay in contact with your leads with an automated email series.
REPUTATION MANAGEMENT
Take control of your customer reviews to boost satisfaction.
LOCAL SEO
If you're serious about local search we can help boost your local authority in Google.
A comprehensive business strategy to help you grow your business.
Our Next Onboarding Session Starts
DISCOVERY
Our starting point. We will dig deep into the goals of your company; ask questions, brainstorm, and get to know your business.
STRATEGY
What is a website without strategy? We dive deep and uncover the best way to communicate your message and goals.
CONTENT
The content of a website is important in so many ways, that's why we have copywriters ready to help you tell your story.
DESIGN & DEVELOP
We take the insights found in Discovery and turn them into a creative design that attracts your ideal customers.
LAUNCH
Get ready. Once your website has gone through the final launch checklist we go live!
MARKET
Now that your new website is ready to attract and convert new leads, it's time to put your marketing strategy in action.
DO I NEED A NEW WEBSITE?
If your website was built over three years ago you could be missing some key elements that are hurting your business. Does your website work on tablet and mobile devices?
According to Google, more than 50 percent of search queries come from mobile devices.
WHY DO WE HAVE TO START WITH DISCOVERY?
During our Discovery consulting sessions we will dig to uncover true needs and create a solution to increase revenue for your company.
HOW MUCH TIME ARE WE TALKING ABOUT?
The minimum about of commitment from you will be approximately 4 hours at 60-90 minutes per meeting. This will include Discovery meetings, and other approval stages needed during the project.
WHERE ARE MEETINGS HELD?
We value your time. All meetings are held online via video conference. All you need is a computer with camera and good headset.
#1 Benefit of Video Conferencing – Reduced travel time and expenses which drives business productivity.
ABOUT POOL & PATIO MARKETING
Hi! I'm Pam Haskell, Founder of Pool & Patio Marketing, a division of Chili Pepper Design, LLC.
About 30 years ago I started my business designing print material for clients while majoring in computer science. All these years later the web has brought my love of design and programming together so that I have an even better ability to help my clients succeed online. 
I'm a mother of two boys that recently purchased a home with a swimming pool. If you are losing prospects because they are not convinced that the investment in a swimming pool outweighs a new car or going on a fancy vacation, I can relate. The only thing holding me back from purchasing my new home was in the mystery of owning a pool.
Turns out the mystery wasn't that hard to solve. It didn't take long before I had a process and after some research purchased the gadgets (love technology) I needed to make it that much easier. I know you already know this, but the pool really has been an unexpected pleasure for our family and friends, providing so much needed peace and fun in our busy lives. Best home purchase ever!
Proud to say that I recently completed two certification courses for Certified Content Marketing Specialist and Certified Customer Acquisition Specialist and look forward to adding more certifications this year. Learning more ways to help you find new and more efficient ways to run your business makes my day.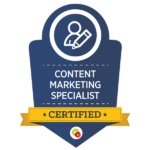 Are you ready to bring in new leads with an improved website and online marketing strategy?
What you can expect from our 20 minutes together
During our call we will both ask some questions and answer some questions.
If there is a good fit, we'll discuss moving forward with Discovery and schedule your upcoming meetings.
Simple. Easy. Done.
FYI, if you provide your website URL we will briefly review your website beforehand. [BONUS]
I look forward to speaking soon!
Be the first to know about our next on-boarding opening.